Post-War S&W K-22 Masterpiece Pre-17
4 Stars

The First Model K-22 was named the Outdoorsman and was produced 1931-1939. The name was changed to Masterpiece with the Second Model in 1940, but less than 1,100 Second Models were made when all production ceased due to the war. After the war ended, production of the Third Model K-22 Masterpiece began in 1946 and lasted until 1957. My gun is Serial Number K316348, making it one of the last Pre-17s produced (see serial number table). And although I don't have a letter yet, I'm sure it shipped in 1958.
You don't name a gun Masterpiece and not back it up with beauty, grace and workmanship. Smith & Wesson went beyond backing up the claim, "no brag, just fact." A real thing of beauty.... says the guy who collects mostly Colts. If you don't understand my excitement over this old .22, well you might as well just click on over to the semi-autos or long guns, because you can't love revolvers and not have an appreciation for this one.
Third Model Description
Seller's Description: S&W model K22 .22LR revolver with a 6" barrel and factory Gold Box. Blue condition is a shiny 93% with a couple of blue loss spots and holster wear at the muzzle, and some handling marks on the frame and cylinder. Bore is excellent, as well as the diamond grips. Features pinned barrel, recessed cylinder, ribbed grip and top strap, S&W diamond grips, adjustable rear sight, and patridge front sight. The seller also stated, "the serial number dates it to 1957, but S&W started stamping the model 17 number on these in 1957, and there is no model 17 stamp on this one."
4-Screw vs 5-Screw
This 1957 gun is a 4-screw gun, as in 1955 Smith & Wesson dropped the 5th screw that would have been on the upper rear frame, kind of between the sight screw and cylinder, just above my thumb in the photo. I have no intimate knowledge of how the removal and deletion of that fifth screw came about, but I envision it went something like this.
An accountant asks an engineer "what can we do to lower production costs?" and the engineer comes up with the idea of making the side plate "Tongue and Groove." Wallah! (excuse my French), the side plate will stay on without a screw. Did this improve the performance of the gun? No. Did it harm the accuracy of the gun? No.
Sarcasm Alert:

I'm not aware of any incident where a side plate fell off because it didn't have a screw holding it on.

So what is the big deal about having a 5-screw gun versus a 4-screw gun?, you ask. In technical terms, absolutely nothing other than screw count and how the side plate is held in place. The "big deal" is whatever you make out of it. To me, the deletion of that fifth screw marks the beginning of a never-ending pursuit of cost-saving measures. It marks a change in priorities or mind-set from how can we make the best possible gun to how can we be more profitable. Here's a link to my 1953 5-Screw gun.
S&W Guaranteed 1½" Groups at 50 Yards
The time period that these Third Model guns were being manufactured was a very unique atmosphere. World War II had just ended and there was cause for celebration. Almost all young men had been exposed to guns. The number of shooting events in the Olympics grew from 4 to 7 during this time. There was a real demand for these guns and Smith & Wesson was very serious about producing the best gun possible.
In fact, in the early days when this gun was first introduced, you had to put your name on a waiting list to get one.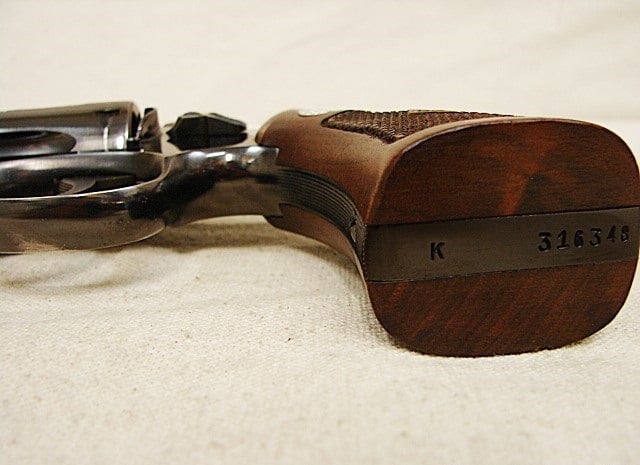 Serial Number
This is one gun that is deserving of pride of place in any gun collection. It's also a gun that begs to be used, rather than placed on a pedastool. I've seen the gold boxes from this period sell for $200 alone! If you have an opportunity to acquire an old K-22, don't pass it up. If you love the K-22 Masterpiece, please check back. I plan to add videos and more in the very near future.
$1,023 Purchase Price Break-Down
Online Auction Winning Bid $900 on November 18, 2021


Sales Tax $92.70


Shipping $30
I've bought a lot of old guns in my lifetime and I have to say, the smile on my face with this one was as big as any previous acquisition. I initially bought this gun just so I could compare it to my 1950 Colt target revolver and write about them. But once I got it in my hand, I fell in love with it so much that I decided to find three more to gift to the son and son-in-laws for Christmas!