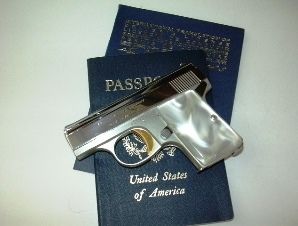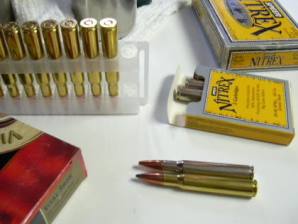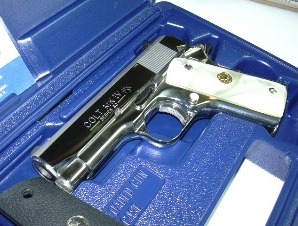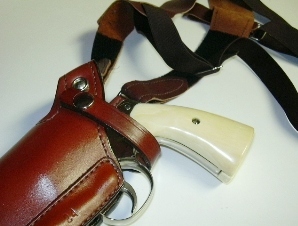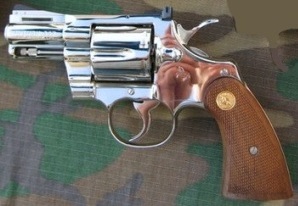 About This Website
Updated:
Introduction
It's hard to believe it's been 6 years since I launched this site! A lot has changed since that time in 2007. For one, a full third of the visitors are using smaller tablets and smart phones to browse this website.
I did not anticipate that initially and I suppose a rework and redesign has been long over due. Recoding this website to adapt to tablets and phones turned out to be a lot of work. My main goal with this website is to share my love of collecting, researching and yes, even shooting old but modern collectible firearms. I truly hope that members of the younger generation gain interest and join in this pass-time/hobby.
My first hobby is collecting old guns. My primary interest is in modern (20th century) handguns and mostly Colts. My second hobby is publishing on the web, like this site! I hope to put a lot of useful information here about gun collecting. In the coming days and months I will be adding information like, serial number ranges and dates of manufacture for many popular guns. I enjoy seeing pictures along with information, so I will attempt to include quality pictures on every page. I'm not a great photographer, but I'm learning and getting better.
Background
My MOS when I served in the United States Army was 76Y. For you non-military readers, the Military Occupational Specialty of 76 Yankee means that I was a Unit Armorer (U.S. small weapons expert). I also qualified as "Expert" with the German G-3 rifle, the Israeli Uzi 9mm sub-machinegun and the 9mm handgun.
Now is a very exciting time to be involved in gun collecting. Many modern and antique collectible handguns and long guns are coming on the market as the WWII generation are dying and a younger generation is inheriting pieces or whole collections. Often times the surviving spouse or other heirs don't have an interest in guns. The internet has opened up accessibility to individual pieces and collections unlike anything in history! Values are soaring on many out-of-production Colts. Winchester values have climbed since production ceased when they went out of business in 2006.
A Word About Gun Values
When I post about values, it will be real world, after the fact examples of what I paid for a gun, what I personally sold one for, or what I'm willing to pay for a particular gun (not speculation). It is my opinion that the internet has had a direct impact on the value (pricing) of guns. In the case of old, used, antique or collectible guns, the internet favors the seller. In the case of new guns, the internet favors the buyer.
I am also of the opinion that every paper publication that I have bought and read in the last few years purporting to list gun values have been almost worthless when it comes to current real-world values. Forgive my rant, but I just returned from the bookstore today and the only true statement I found in a few of the supposed "gun value" publications was the disclaimer...loose interpretation...we may not know what we're talking about, the values may be something totally different than what we print here, don't rely on this book when buying or selling a gun, etc., you get the drift.
It really upsets me when I pick up two new (current) books on the shelf in the store and read conflicting statements of fact, especially when the statements are about a gun that is almost 100 years old. You would think that with 100 years to research the data they could get it right. I'm talking about production information, not values.
Well, I do realize that anyone can make a mistake and I probably have some on this site. The one thing that I learned at the bookstore today was that I should probably put one of those CYA Disclaimer Statements on my site. If you are trying to establish the value of a firearm, monitor the online auctions for recent sales of similar guns.
As a final note on gun values, if I post what I paid for a gun, it's a fact. If I post what I sold one for or was offered for a gun, it's a fact. If I post what I'm willing to pay for a certain gun, it's a fact. If I should speculate on something I will state it, but you most likely won't find any speculation or estimates on gun values.
Note Regarding Serial Number Tables
In my limited experience, all of the Pythons, Detective Specials, 1903's and 1908's that I have ordered Colt Archive Authentication Letters on, have shipped the same year that the production table put them in. However, I bought a First Generation Single Action Army that the table showed late 1928 as the year of manufacture. When the Colt Letter arrived, it showed the gun as being shipped January 2, 1931.
After much consideration and several re-examinations of the serial number tables for the First Generation SSA's, I believe the tables for that particular model are flawed. According to the table, Colt produced as few as 100 guns per year (1935 and 1936). The serial numbers start at 357,000 in 1940, the year that they end. These guns went to serial number 375,000 and I do not believe that annual production went from 100 to 18,000.
Therefore I elected not to publish the serial number ranges on the First Generation SSA. Disclaimer time: I don't actively collect cowboy guns, I know very little about them and my limited observations may have caused me to draw incorrect conclusions.
In Closing
I hope you enjoy browsing this newly redesigned website as much as I enjoyed (re)creating it! Please bookmark the site and check back to see what new (old) exciting information you can find here. Stay safe and obey the laws because law abiding citizens strengthen the law.
Have

a Question?
Comments and feedback welcome ...
If you own an old Colt handgun, I encourage you to call the Colt Archive at 1-800-962-COLT to order an authentication letter. If you are purchasing an old Colt handgun, I encourage you to call them with the serial number of the gun. Often times they can tell you information about the gun over the phone, like the original finish.