Ideal for Concealment, the Colt Mustang is an All-Time Favorite
5 Stars
The original owner of this Colt Mustang described it as a 1992 gun, however when my Colt Archive Letter arrived, I learned it shipped on December 10, 1991 so it is in fact a 1991 gun.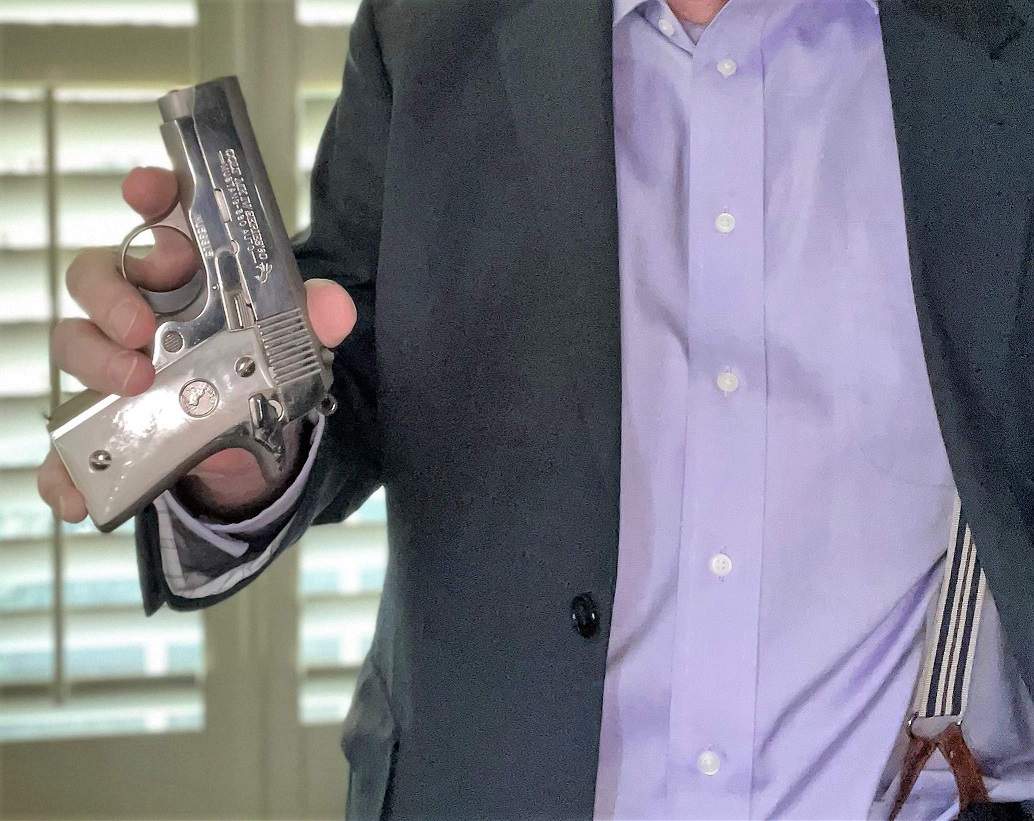 Colt Mustang
Many states that issue pistol permits today, require that the handgun be concealed. Concealed Carry Weapons (CCW) by necessity are generally smaller in size and lighter in weight. My gun was made in 1992. This particular gun rates very high on my list of collectibles! I've always been partial to nickel plating because I live in the deep south where the humidity can be 80% (not good for blued guns).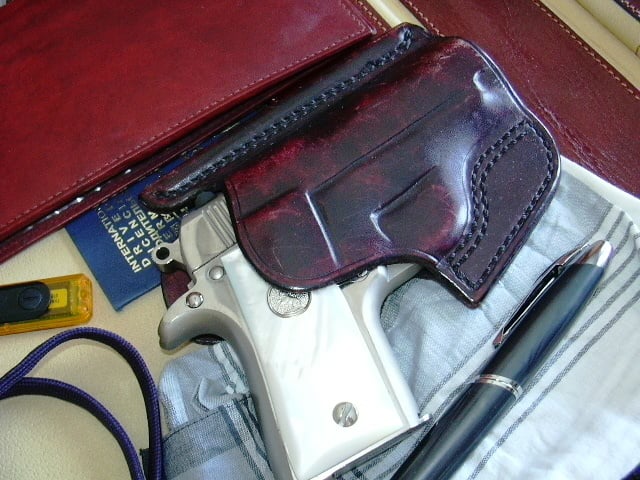 Daily Life
The size of this gun lends itself so well to making it easy to incorporate carrying into daily life. I have carried it almost daily since 2001. I paid $750 plus $25 shipping and $25 transfer fee for a total of $800 in 2001. I wouldn't sell this particular gun for three times what I paid, because I've yet to see another nickel finish, unfired gun in the box with real mother of pearl grips from the factory, for sale on any of the online auctions that I monitor. The grips alone are worth $500 to $700 on the market.
The Gun Books won't rate the value of this gun that high and many collectors might say I'm crazy. This is one of those cases where the gun is worth a lot to me personally. Would I pay $2,400 for another one just like it? Probably not to have a second one (to store in a safe, I hate doing that with guns), but if I had to replace this one, you bet.
Next to Ink Pen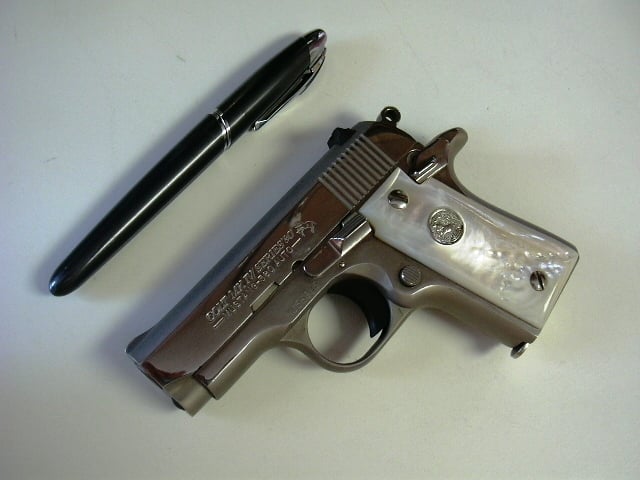 What's my opinion on minimum caliber?
The number one qualifying factor is threat and number two is environment. I have a .32 semi-auto and a .32 revolver, both of which I feel very comfortable carrying in my environment. The follow-up question that always arises when talking about minimum caliber is, "which is more important, caliber or shot placement?" Given the opportunity for optimal shot placement at very close range, a .22 or .25 caliber can be as deadly as a .45. Again, I think the environment rules.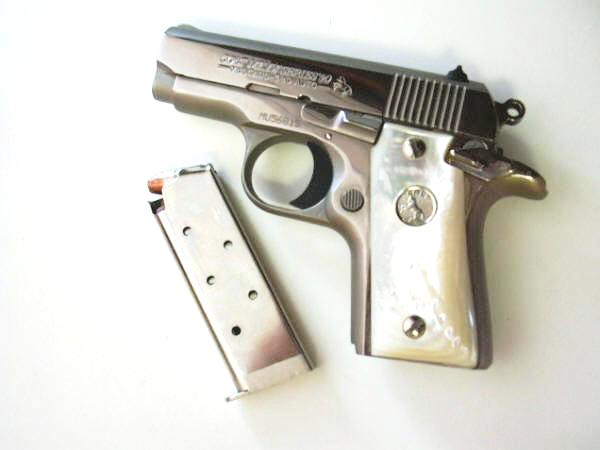 Wallet Holster
The holster pictured here was custom made for my Colt Mustang by Ron Graham. This holster is one of my all-time favorites. The name of the holster is the "Scorpion" and it is done in ostrich.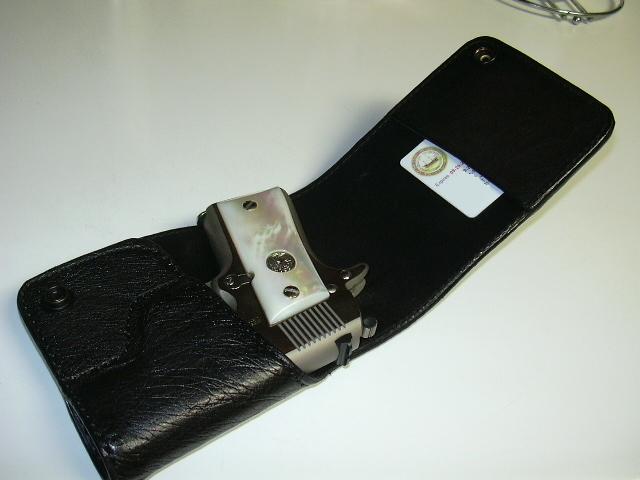 Pocket Guns and Weight
At 18.5 ounces, this gun is heavier than some of it's competition in the same .380 caliber. In order to make this gun even lighter, Colt installed a plastic guide rod. I purchased an after-market steel guide rod and put it up (haven't installed it). I think the balance and handling advantage during firing outweighs the slight disadvantage of heft and weight while carrying. I do not have access to the serial number tables for this line, so I'm afraid I wont' be much help in dating one of these guns.
UPDATE: Colt began production of these guns again in 2011 to celebrate its 175th anniversary. Colt also saw the demand for conceal carry guns sky-rocket during the Obama years. I think the new guns are mostly polymer or alloy.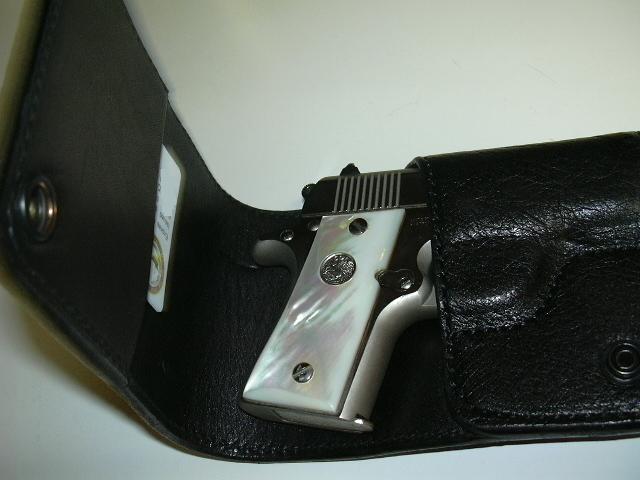 Size and Caliber
As gun designs get smaller and lighter, generally the caliber gets smaller. Many gun enthusiasts consider the .380 caliber too small for self defense, while many consider the .380 to be the minimum caliber. There has been a lot of testing and development in cartridge design down through the years. There's a pretty big variety of .380 ammunition to choose from.