The Obama Years
(2008 - 2016)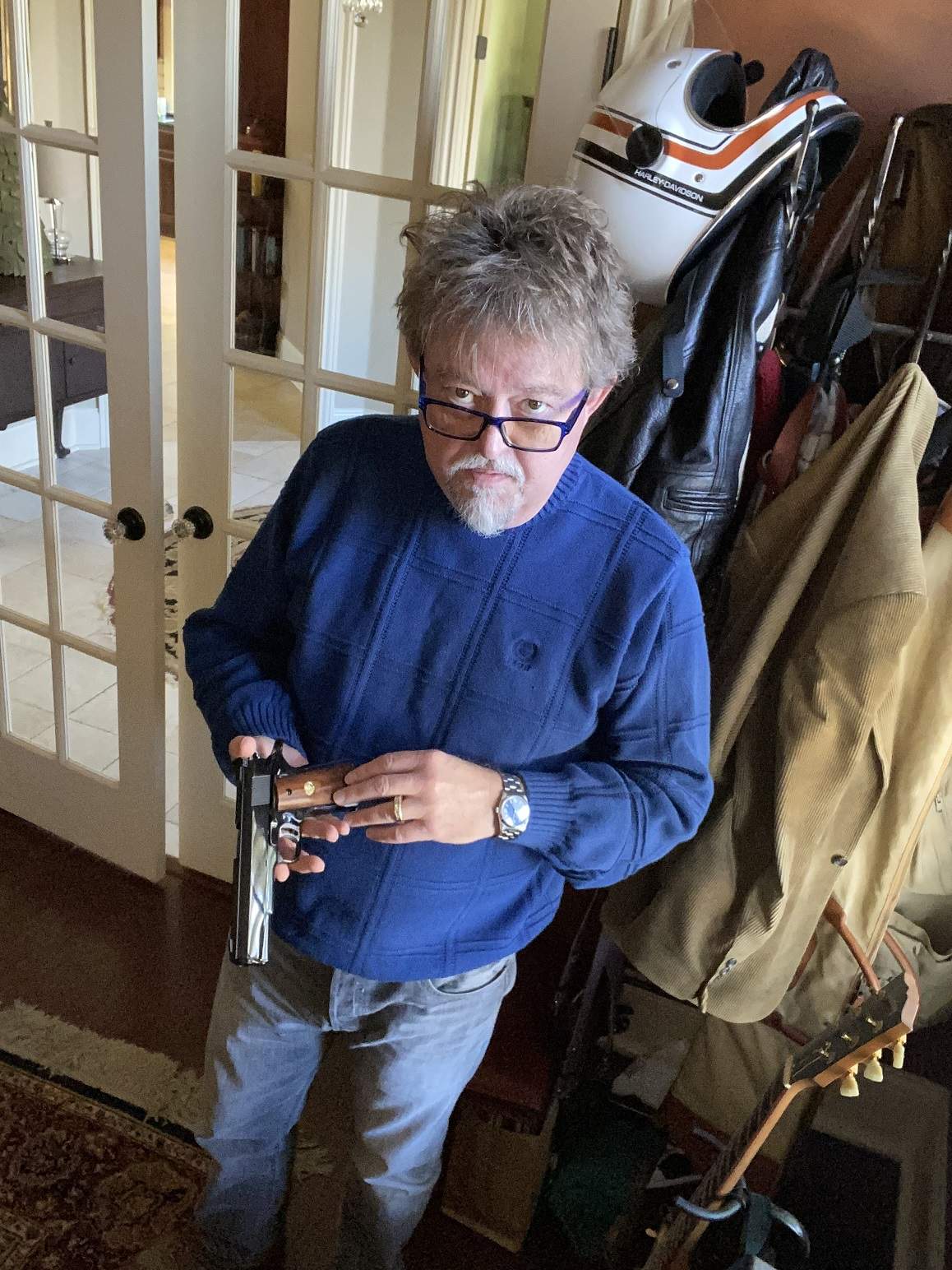 Most recent purchase (at time of writing) October 2019
Gun Prices Skyrocketed
---
If you follow the old addage, "buy low, sell high", then you were a seller and not a buyer during the Obama years. I sold three Colt Pythons as I watched them go from $1,500 to $2,500 to $5,000!
During the days following Obama's winning the Presidential Election, there were actually lines at gun stores. Gun sales and Concealed Permit issuances set all-time records. During the Obama years, I purchased only five guns; a 1952 unfired .32 Colt Detective Special, a 1963 Colt semi-auto 12 gauge shotgun, an Autauga .32 pocket pistol, a new Bond Arms .410/.45 combo derringer and a new Flint River .45 Carbine.
1952 Colt .32 Detective Special
My Detective Special was offered on consignment at a local gun store by the widow of the original purchaser. I paid $750 for it. As you can see in the photos, it has a blue finish and black plastic panels.
The Second Series Detective Special ran from 1947 to 1972. The ejector-rod was longer and had a groove in its knurled tip; a three-inch-barrel variant was offered, with a yet longer ejector-rod. The cylinder latch was smooth, and the trigger spur serrated. The right side frame screw has no locking pin, and the rear half of the front sight is a serrated ramp. The grip panels were plastic in 1947, but were changed back to wood starting in 1955 (first with a silver-tone Colt medallion, and later a gold-tone). An optional hammer shroud was available from the factory to prevent the hammer from catching on clothing.
1963 Colt 12 Gauge Semi-Auto Shotgun
The Colt 12 Gauge Semi-Auto Shotgun has a 30" full choke barrel with a vent rib and a 3" chamber. Colt contracted with Franchi to have these guns manufactured in Italy from 1962 to 1966. My gun is the deluxe version called the Custom Auto as it features engraving and higher grade wood than the standard model.
This gun sat in the rack of a local gun store for a year, with a price tag of $650. On one of my rare visits during this time, knowing I was a "Colt Guy", he offered it to me for $500. I took the gun to a Turkey Shoot the following week and on the second round won a ham. I love the feel and way this gun handles!
I have a serial number table here for these 5,000+ shotguns.
Autauga .32
The Autauga Arms Mk II .32 was manufactured from 1996 to 2000 and approximately 3,200 guns total were produced. The gun is a double-action only (DAO), blowback operated semi-auto with a stainless steel frame and black polymer grips.
This gun was purchased from an individual for $500. It was as-new in the box. The manufacturer stated that these guns required 100 rounds to break in.
Bond Arms Cowboy Defender
The Cowboy Defender is a powerful shooter in a compact, classic design. Its 3″ barrel is chambered for .45 Long Colt and 2.5" .410 shot shells. My local gun store special ordered this one for me. I paid $500 tax and all for it. I bought this gun for its ability to shoot .410 shotgun rounds. I have a quarter-mile walking trail on my property and routinely carry this one in a shoulder holster.
Flint River .45 Carbine
The CSA45 from Flint River Armory is purpose-designed to be the most effective .45ACP personal defense weapon ever made. This pistol carbine platform is designed for: Accuracy – Strength – Reliability …and made 100% in the USA. Every pin, spring, and component of the CSA45 is made in the United States, and mostly made in the State of Alabama. A friend of mine was involved in the start-up of this company and I ordered one two years before it was built for $1,500 pre-paid.
Summary
Almost every reader must be thinking at this point, that I paid TOP DOLLAR for every purchase I made during that eight-year period. Believe me, I feel like I did too. Three of the five purchases were at a new local gun store across the street from my office and I really wanted to support the business. And the carbine, well I think they are selling for $995 now, but I wanted to support my friend getting his business started.
At any rate, I'm happy with my purchases. Two of the five guns were not intended for my collection.